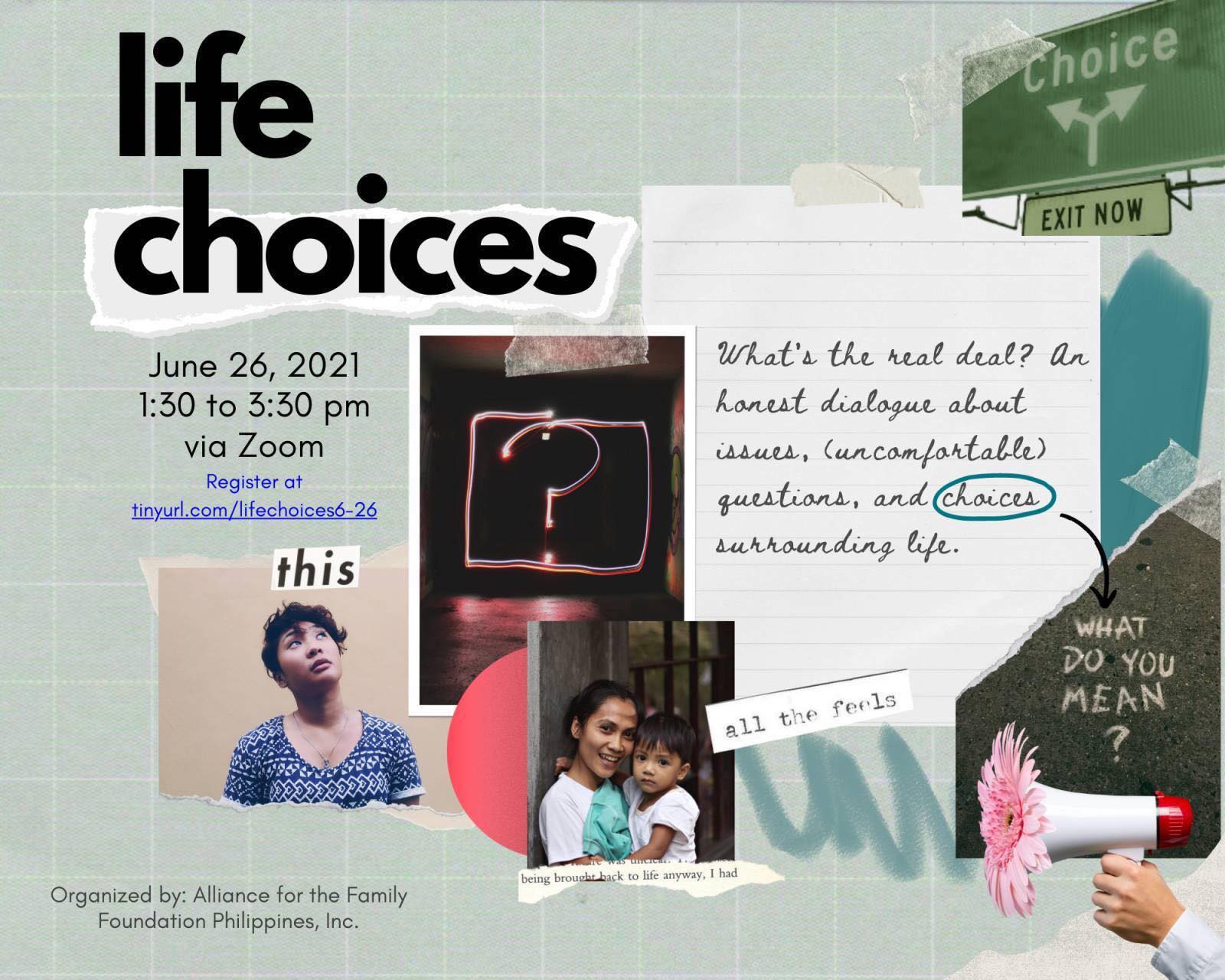 The voice of the youth has never been as powerful as it is in this day and age. Digital natives and mavens that they are, their opinion, views, and statements dominate the social media realm – which is also the most powerful medium of communication now. That's why it's important for them to get involved in advocacies that protect the moral fiber of society. Last June 26, 2021, ALFI Youth was launched to senior high and college students of both public and private schools through a thought-provoking and informative talk called: Life Choices. The talk was given by Ms. Carmela Vertido an educational leader with a Degree in Secondary Education, Major in Mathematics and Master in Distance Education in the University of the Philippines. She taught in PAREF Woodrose, PAREF Southcrest, and is currently heading the Online Learning Program of PAREF Rosehill. Her experiences with the students in these schools have given her a good context of where the minds of the youth are.
The talk on Life Choices focused on helping our youth discern what the right life choices are in a time when the words freedom, choice, rights, love, truth, are used loosely to suit one's personal or political agenda. To help the young audience to get out of a possible indifference or apathy towards the more serious life advocacies such as ALFI's, Carmela posed thought-provoking questions like: "How connected are we?" "How much do other people's choices matter to me?"  Probing on the possible temptation to categorize pro-choice issues as far from their reality, she went on to say that "we are all on the same road of life and just like any road, when an accident happens on the road, everyone on the road gets affected by the traffic and chaos that the accident brings."
She also tackled real issues that happen in social media like the mob or bandwagon effect wherein people are swayed by the opinion of the majority as sometimes inaccurately represented by polls. These polls, as Carmela discussed, are oftentimes Push Polls that are developed with so much bias, such that it "pushes" people to respond in favor of the poll developers' bias or agenda.  At the end of this section, she leaves them with the question: "do we base our choices on polls?"
It was very well received by the youth. They were very engaged and appreciative, as evidenced by the very active zoom chat box, filled with positive comments and feedback. It's about time we get the youth involved in our fight for life. They infuse a lot of positive energy and hope that Pro-Life efforts can remain relevant. Getting the youth involved in ALFI increases the sustainability of our advocacy and creates a better now and a more hope-filled future.
We ended the session with a prayer for the success of ALFI Youth in recruiting and persevering in the fight to protect and promote life and family: "We thank you dear Lord, for this very fruitful session. We pray that the enlightened minds of our youth present this afternoon inspire action from them to advocate human dignity, human life, and good moral choices. Knowing that we are all connected and that our choices are not just our choices but will affect others and have consequences in their lives – may we strive to always choose life and its goodness, love and true freedom. Grant us the grace dear Lord, to be salt of the earth and light of the world despite the oftentimes, discouraging circumstances. Grant us fortitude and courage to carry these through. Amen."
By Chelet Tanjuatco