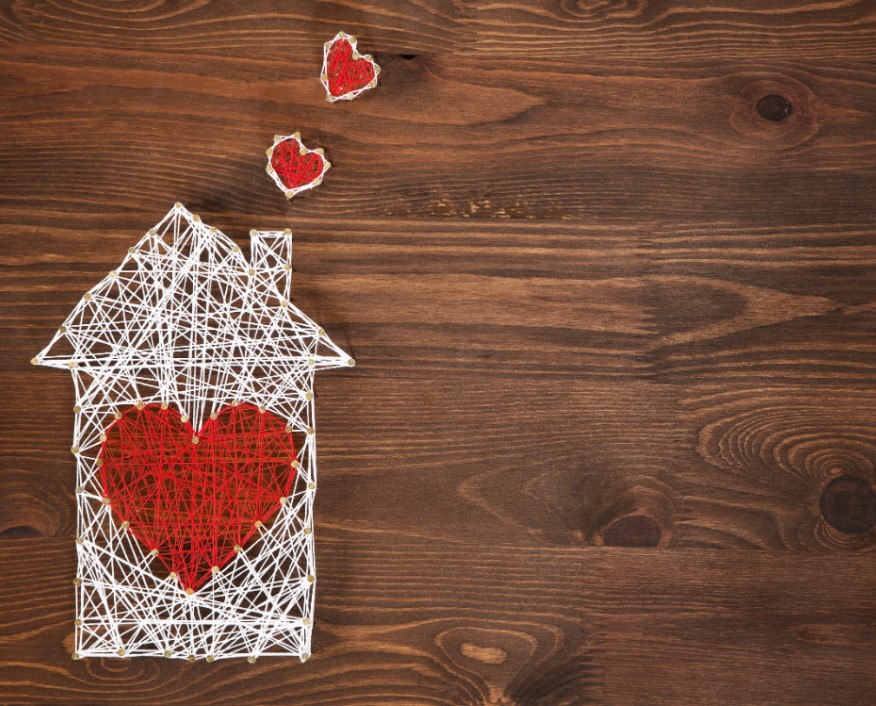 By: Chelet Cuadrante – Tanjuatco
My husband Jojo and I have been married for 14 years and we celebrated our Wedding Anniversary last May 19 – at home, of course. We always celebrate our Anniversary in a simple way; no grand gifts and no big surprises. We would start by hearing mass for thanksgiving, then go about our usual day or work schedule, and then go out for a dinner date. In some occasions, when schedule and budgets permit, we would travel. The main thing that differentiates our anniversary from any other occasion is that it's almost always a date, ie. no kids. This year was a different year, we still heard mass together, but we couldn't quite escape from the kids during dinner. We thought it was a good idea to finally let them celebrate with us. Our daughter Lucia, planned our "program" – which consisted of a viewing of our Wedding Video and other family travel videos, our son, Nacho planned the dinner menu with Jojo.  Jojo cooked dinner, and I baked dessert. We all had such a nice time watching and reminiscing. In the video, we watched and listened to the speeches of our parents. My father-in-law spoke about how he has observed that the shared values that we had as a couple drew us together. My mom's speech on the other hand was coming from a different perspective. She kept on highlighting how seemingly different or in the opposite side of the spectrum Jojo and I are. He's cool and composed, I am antsy and hyper. He's quiet and reserved, while I am super talkative. In the end she said, it is precisely in these differences that we see God's wisdom in bringing the two of us together. I couldn't help but think, that now (in quarantine) more than ever, these differences helped us grow and how they helped our relationship bloom, even during a crisis. And true to what my father-in-law said, our shared values helped keep our eyes focused on the same goal of being there for each other, for the family, and for others.
Being in an Enhanced Community Quarantine brings forth a slew of emotions. There's anxiety on the one hand because you don't know when ECQ will end, but there's relief on the other hand because at least you are allowed, even encouraged to stay home and have your loved ones close to you. There's despair because you can't see loved ones outside of your household, but there's also newfound joy in being able to bond with your nuclear family. There's frustration at the disruption of the usual comfortable cadence of your life, leaving you feeling disorderly and derailed. On the other hand, there's also peace in knowing that being outside, and going about your usual activities in this kind of pandemic, is so much more worrisome and dangerous than getting stuck at home. There is also deep sadness for people who are greatly affected and afflicted by the virus, and a certain feeling of wanting to be of help but can only do so much. This roller coaster of emotions leaves us in a very vulnerable and overly sensitive state. We hear couple friends joking about how they would likely want to hide from each other at some point because they will surely get on each other's nerves. It wasn't quite like that for us but it wasn't also entirely smooth sailing.
As my mom alluded to during her speech at our wedding, I was the worrier. Imagine what a situation like this does to me! I was very particular with the whole hygiene, sanitation, and protective measures. One time, I found myself getting annoyed or stressed with the amount of things we needed to do just to make sure we were protecting ourselves from the virus  (like wearing masks, cleaning our shoes with a foot bath, parking the bought goods and cleaning them first before they entered the house, etc..) and I saw that my husband skipped a step – he did not wear a mask as soon as he exited the front door (which we made a rule – even if it was just to go to the garage – just to make sure that we imbibed the habit). I got so upset and was really masungit. I called him out in an irritated manner. He also answered in an irritated manner. After a few minutes, he went up to me and hugged me. I was so tempted to be sarcastic and push him away to say that we needed to do social distancing, but I stopped myself and hugged him back. He took a deep breath and said, "This is really stressing us both, I am sorry, I know we have established the rules but these are new things we need to get used to, so we need to be patient with each other. And I know I also really need to be more aware of the health and safety protocols from now on. I am sorry." The Holy Spirit was at work, because I just also found myself keeping quiet, taking a deep breath and forced a smile. I knew it was God's grace because I would not have been able to keep it together that way, had I just relied on my own capacity. Same for Jojo, I assume.
When the pandemic set in, we really found ourselves intensifying our prayer life as a family. In pre-quarantine, because we all had our schedules and with Jojo working in Ortigas (and we live in the South), we would attend weekday masses on our own – him near his place of work and I, wherever my meeting was on that day. The good thing during ECQ is that we would always go to mass together in the morning to start our day. Praying the Rosary has always been part of our family prayer but during the ECQ, we added the Divine Mercy Chaplet and scheduled a quiet reflection time for each of us to pray our own prayers. I think these prayer times have really been grace filled and have helped us all move into a space of being more understanding of each other and of the whole situation.  
#LoveinthetimeofCovid challenges us; it pushes us to expand our hearts and invite more love for our family, for other people in need, and of course for Our Lord. Inviting more love to settle in our hearts is not necessarily easy. In fact more often than not, it will entail a lot of sacrifice and now more than ever we rely and cling to God's grace. It will only be made possible with God's grace.
It was a good idea to celebrate as a family and re-watch our video. The homily of our priest friend, Father Nemy, who officiated our wedding, hit home. We were reminded of our promise to each other – in joy and in sorrow.
"Because you are God's chosen ones, holy and beloved, clothe yourselves with heartfelt mercy, with kindness, humility, meekness, and patience. Bear with one another, forgive whatever grievances you have against one another. Forgive as the Lord has forgiven you. Over all these virtues, put on love, which binds the rest together, and makes them perfect…"
"In your love for each other there comes through to us splendid joy, the way you look and smile at each other is a very striking image to us of what it means to have joy to  be truly happy for another, to love and be happy with another. There is that splendid hope that comes through to us- through you. All around us, promises are broken, doors are shut, and yet the two of you promise to endure all things together. You give us, your friends, hope that we too can believe in enduring love, love that can promise forever and want it and really mean it. When you leave this church, this house of promises, you will take with you not only our blessings, not only each other; you will take God with you – the God who is forever faithful despite our infidelities, the God who alone can guarantee lasting joy to your love"