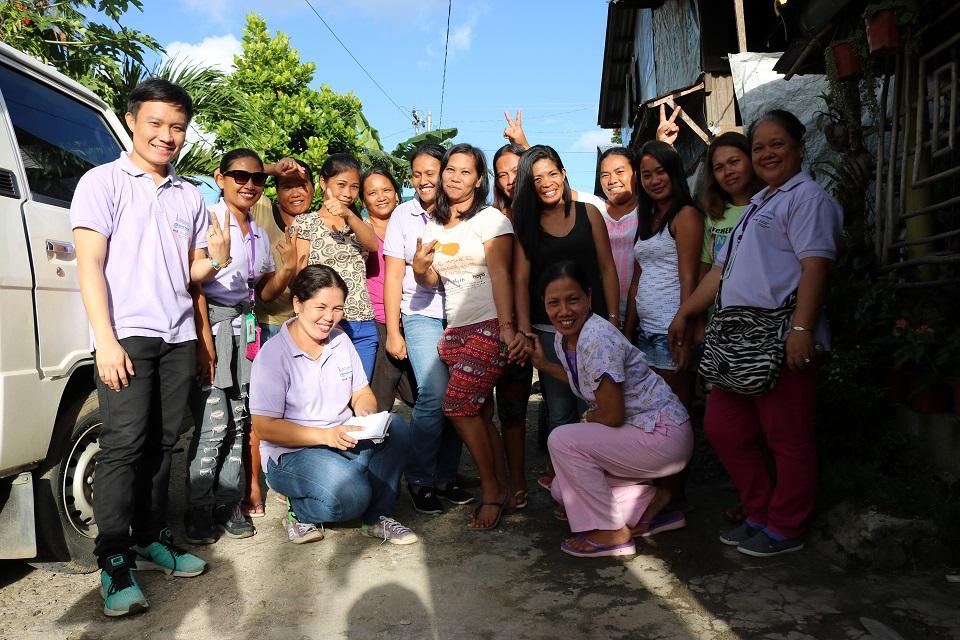 As the bodies pile up, President Rodrigo Duterte's "war on drugs" continues to attract international attention and condemnation. With grand pronouncements, he has made clear his intention to rid the streets of illegal narcotics.
But the President's incendiary proclamations fall flat when it comes to a different kind of battle—one that involves access to drugs, which one side argues saves lives and the other asserts takes lives. The battle that has been going on for decades, claiming countless women and children in the country as casualties.
Elena (not her real name), a 47-year-old mother of 13 children who lives in Quinapondan, Eastern Samar, is paying the price of this overlooked conflict. After three miscarriages and one abortion, she is finally getting a subdermal contraceptive implant at a reproductive health clinic run by the non-governmental organization (NGO) Likhaan Center for Women's Health.
This will be her first time to use contraception. Her husband does not want her to be on contraceptives, but she tells the nurse at the clinic that she is the one giving birth. It is her body that has suffered from the miscarriages, she says, and she wants to take care of herself, too.
Implementing the RPRH Law
That Elena is able to use the contraceptive is possible only thanks to the Responsible Parenthood and Reproductive Health (RPRH) Law, enacted by the House of Representatives in 2012 in a bold challenge to the politically powerful conservative religious establishment in this Catholic-majority nation.
Uncontrolled childbirth is a major factor in the persisting poverty in the country, as typified in the widely reported story of Rosalie Cabanen, who at 47 years old is a mother of 22 children and struggling to raise them on her husband's daily wage of Php404 (USD21).
The RPRH Law was a firm stand against the Catholic Church and pro-life groups, who had made their position clear in labeling supporters of the law as members of "Team Patay" (Team Death). When then-President Benigno Aquino III signed the historic RPRH Law in December 21, 2012, it had seemed like a definitive blow ending the decades-old fight over contraception in the country.
But the conservative establishment held its ground and, several months later, struck back, challenging the constitutionality of the RPRH Law in the Supreme Court, which ruled to temporarily halt its implementation.
The Court eventually decided in 2014 to uphold a watered-down version of the law. "Universal access" to contraception under the legislation was now denied to minors—even those who have suffered a miscarriage or are parents of their own children.
The diluted RPRH Law no longer penalized healthcare workers and providers if they refuse to support reproductive health programs or fail to disseminate information on reproductive health. Local government heads like Sorsogon City Mayor Sally Lee even tried to supersede the law with declarations that their city was pro-life, a claim that was contested by the Commission on Human Rights (CHR) and the Department of Health (DOH).
The attack on the RPRH Law continued via another petition filed in 2015, this time to challenge the mechanism of the drugs and devices that the DOH wants to distribute. A temporary restraining order (TRO) was issued by the Supreme Court, preventing the DOH from procuring contraceptives for its family planning programs pending the Food and Drug Administration's (FDA) declaration that these products are non-abortifacient.
Life and death as defined by law
Petitioners Alliance for the Family Foundation Philippines Inc. (ALFI) brought their case to the Supreme Court in 2015 and has since cited Section 4(a) of the RPRH Law itself to defend their position that contraceptives are abortifacients. The law states:
Abortifacient refers to any drug or device that induces abortion or the destruction of a fetus inside the mother's womb or the prevention of the fertilized ovum to reach and be implanted in the mother's womb upon determination of the FDA.
It is also written in the Philippine Constitution that "The state … shall equally protect the life of the mother and the life of the unborn from conception."
OB-GYNE Dr. Ryan Capitulo, who serves as a medical expert for ALFI, explained their position armed with these details.
"Sabi po kasi ng Saligang Batas at ng RH Law, ang anumang gamot na maaaring makapagpigil sa pagkapit ng fertilized egg or ng baby or ng embryo or ng fetus—anumang gamot na makakapagpigil sa pagkapit sa lining ng matres ng baby na 'yon, ng fertilized na 'yon ay abortifacient," Capitulo said in a press conference.
(The Philippine constitution and the RH Law states that any drug that prevents the implantation of a fertilized egg or baby or embryo or fetus—any drug that prevents the implantation of the fertilized egg on the lining of the uterus is an abortifacient.)
Capitulo said that the product inserts for the contraceptives detail their effects: the prevention of ovulation, the thickening of the cervical mucus, and keeping the uterine lining thin.
That last mechanism—the change in the endometrium—is what Capitulo and ALFI claim makes the 51 contraceptives abortifacients. The ALFI website presents a compiled list of contraceptives in the Philippines and their opposition to each one, highlighting the effect of each to the endometrium.
Coming to the rescue of the poor thus being denied reproductive health care which is crucial for their physical and economic well-being, Duterte, in response to the seemingly relentless attacks on the RPRH Law, issued an Executive Order in January 2017 mandating all concerned agencies to implement the Law in full.
His strong statement was a response to a P1-billion cut in the government budget for contraceptive services in 2016, which the late Senator Miriam Defensor Santiago described as an abandonment of the law. The Santiago said the cut would deprive some 7 million women of reproductive health services and was "immoral in a country where some 200 out of 100,000 women who give birth, die."
The EO was also a message to the Supreme Court that the Duterte administration would not tolerate legal delays like the TRO. While sharing the Order with the press, Socioeconomic Planning Secretary Ernesto Pernia stressed that the effective implementation of the law is a national issue, as "11 women die every day because of pregnancy and birth complications."
In his subsequent State of the Nation Address in July 2017, the President once more declared his support for the RPRH Law: "I am not for abortion, I am not for birth control, but certainly I am for giving freedom to Filipinos to decide the [size of their family]…how many children will they be able to support and send to school."
Despite Duterte's strong proclamations, the Supreme Court handed a victory to pro-life advocates when it decided to uphold its TRO, first in May and again in September 2017 as it demanded the FDA to respond to ALFI's concerns about the contraceptives.
A letter dated October 9 addressed to former Health Secretary Paulyn Ubial from the World Health Organization acknowledged ALFI's concerns and explained that studies have shown that there are changes in the endometrium during combined oral contraceptive pill use, but "no evidence to date has supported the hypothesis that these changes lead to disruption of implantation."
They clarified that the primary mechanisms of action of the contraceptives questioned by ALFI are prevention of ovulation and thickening of the cervical mucus. "All the above-mentioned methods … directly or indirectly have effects on the endometrium that may hypothetically prevent implantation, however there is no scientific evidence supporting this possibility," the letter read.
A study conducted in 1999, "The mechanism of action of hormonal contraceptives and intrauterine contraceptive devices," similarly states that "no scientific evidence indicates that prevention of implantation actually results from the use of these methods. Once pregnancy begins, none of these methods has an abortifacient action."
The FDA's findings from its internal examination concurred with the science in these studies and the TRO was deemed lifted in November 2017.
But ALFI refused to yield. Ten days after the FDA cleared the 51 contraceptives as non-abortifacients, ALFI launched an online petition demanding FDA and DOH reverse their decision, claiming that "were no rules of procedure" and no opportunity given to them to "confront the evidence."
The FDA, however, insists that it "had fully informed the interested parties on the review process and given them enough time to submit their pieces of evidence, whether for or against the recertification of the contraceptive products."
"The process is technical and scientific in nature and not a political one. As scientists, we work with empirical evidence and we make sure that our conclusions are based on facts and not on hysteria," said FDA Director-General Nela Charade Puno.

Protesting in good faith
Conservative groups have long kept the conversation on modern family planning methods focused on public safety.
In 2010, before the enactment of the RPRH Law, pro-life lawmakers wanted to highlight the link of combined oral contraceptive (COCs) with certain types of cancers. Former Parañaque Representative Roilo Golez demanded that FDA and DOH issue strong warnings on the possible health hazards of these products.
Former Cebu Representative Pablo Garcia fought to shift referral of the bill from the population committee to the health committee in Congress, saying that "even the World Health Organization classifies the contraceptives are carcinogenic."
However, the World Health Organization (WHO) in 2005 had already declared that for most healthy women, the health benefits of taking COCs clearly exceed the health risks.
"They had questions about the pill, thinking the pill is actually poison to a woman's body, that they are innately evil, because they think the 'natural law' is for reproduction, so anything to stop it is to stop the divine law. Any contraceptive is like going against God's will because God's will is that there should be life," said Likhaan co-founder Dr. Junice Melgar, referring to the arguments of some lawmakers during public hearings in the Senate and Congress from 2008 to 2012.
"I think they felt like they could not win that and then they shifted to the harms of the drugs. They cause abortion, they caused heart attacks, they cause congenital deformities … usually for any drug, whether it's a simple aspirin, you have a list of side effects. So in Congress they would read that," she added.
This sowed doubts in the minds of health service providers and when the TRO was issued, the effect was chilling.
She explained that although the Supreme Court's TRO specifically states that only DOH was banned from distributing contraceptives, even health workers from local government clinics stopped dispensing these products.
"A lot of them are really fearful that they might be in violation of the law if they continue to provide contraceptives… a lot of LGU staff [local health providers], who are the backbone of our family planning program, desisted from providing family planning during this time," Melgar pointed out.
Amina Evangelista Swanepoel, executive director of the Palawan-based reproductive health group Roots of Health, confirmed this. "We found that in some municipalities, they refuse to help us," she said. These municipalities, she added, are "so scared of the TRO" and say that they might be fined or might go to jail "if something happens."
A pro-life choice for mothers

The residents of Quinapondan, where non-governmental organization Likhaan set up a center in 2014, know well the sanctity of life and the tragedy of its loss.
The town was ravaged by super typhoon Yolanda (Haiyan) in 2013, and its residents were grateful for the swift response of Likhaan to their need for relief services, which gradually included free access to reproductive health services. The survivors know that they are the lucky ones.
Quinapondan resident Leah, 22, agrees with ALFI that lives should be saved, especially of children. But for her, contraceptives do not kill; rather, they help prevent murder. If ALFI succeeds in banning contraceptives, it would mean more deaths, says Leah.
"Manghihina ang loob (kung ipagbawal ang contraceptives), kasi magpatuloy sa pagbubuntis [at] panganganak—maraming bata ang mamamatay. Kasi ngayon palang, nakikita na sa TV, may bata tinatapon sa basurahan at pinapatay," she says. "Kung ipagpapatuloy [ang family planning], mas maraming bata ang mabibigyan ng kinabukasan."
(I would be disheartened if they banned contraceptives, because people would keep getting pregnant and keep giving birth, many children would die. You can see it now on TV, there are babies being left in garbage bins and killed. If family planning continues, more children would have a better future.)
Leah had her first child when she was 16 and had to drop out of school to raise it. She said that she wishes she knew about reproductive health earlier. She plans to educate her children about sex and reproduction starting in their teens because she wants them to have a better life.
Like Leah, many women in Quinapondan did not have access to contraceptives even before Yolanda, one of the biggest natural disasters to hit the Philippines, and they say that the availability of reproductive health services is now helping them regain control of their lives.
"Nakabulig [ang contraceptives], hindi na masyadong mahirap [ang buhay]…nakakabili ka na nang gusto mong bilhin [unlike] dati, hindi ka nakakabili kasi giburod si gibirod. Madalas ang panganganak wala namang pera," said Mary Anne, 33.
(The contraceptives helped, it made life less difficult…you're able to buy what you want, unlike before you couldn't afford anything because you're always pregnant. You're always giving birth, but you don't have money.)
Mary Anne first gave birth when she was 18 and, five children later, she is now on implants.

The rights of women
The women of Quinapondan are ready to take to the streets to protest if their access to contraception services is limited or taken away altogether. Pro-life groups have tried to persuade them to use natural family planning methods, but they have already tried these and know that these do not work.
"People are talking about empowerment, but how can you talk about full empowerment—even if a woman has a job, for example, or is earning a living outside the house—if at home she cannot say no to the husband, she has so many children that she doesn't want, or she resorts to unsafe abortions because she cannot plan her own reproductive life?" Melgar said.
Mothers like Leah who benefit from the modern family planning services welcome the help in managing the size of their family without having to gain permission or money from their husbands. The accessibility helped them exercise their rights to their body and to the future that they want for themselves and their children.
"Kahit ayaw [ng asawa ko], gagawin ko, kasi hindi naman siya ang magbubuntis e. Ako naman 'yong mahihirapang manganak. Kahit ayaw niya, gagawin ko," said Jocelyn, 31 and mother to two. Her first pregnancy at age 23 was unplanned.
(Even if my husband doesn't approve of me being on contraceptives, I'll still do it, because it wouldn't be him carrying the child. I'm the one who will experience the pain of giving birth. Even if he doesn't give me permission, I'll still do it.)
Lizelda, 41 and mother to two, said that she's relieved that she can get her oral contraceptive pills for free, leaving her with money to spend for her family. She has also learned more about reproductive health from the health workers.
"Kapag may bagyo, ang una kong kinukuha 'yong pills ko!" she said. (When there's a storm, the first thing I grab are my pills!)
After the lifting of the TRO, the next step is to get the P4.3-billion budget for the implementation of the RPRH Law approved. Its opponents in the Senate are already talking about blocking the budget and suggesting that FDA's findings be examined by the senate committee on health.
Capitulo and ALFI believe that the money the DOH is asking for should be used to invest in preventing maternal deaths by addressing problems at the root, like preventing eclampsia by providing medication for high blood pressure safe for pregnant women.
Instead of providing modern family planning methods to the public, ALFI insists that the government should funnel money to maternity wards and enhance postnatal care services. This is how the government should attend to mothers, they said.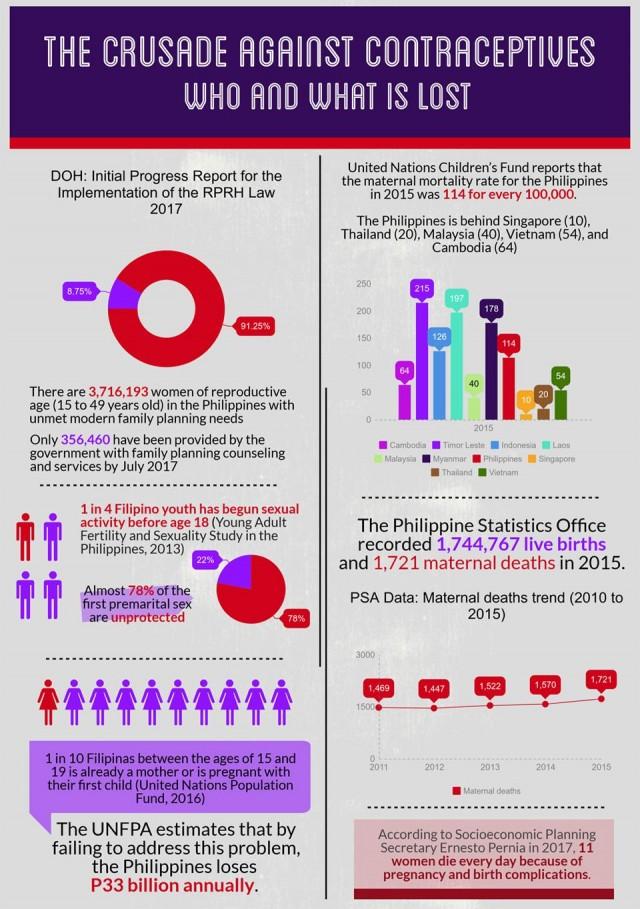 Matters of public safety
Tim Laws and Eileen Araneta, president and vice president of ALFI, continue to claim that the FDA had disregarded the evidence they submitted. Both are adamant that life should be protected and that these contraceptives are dangerous.
"Sabi nila [FDA], wala kaming ebidensiya na nakakaharm [ang mga contraceptives]. Hindi ba dapat, kung susundan natin ang Saligang Batas, sila ang [gumawa] ng pruweba na hindi mapanganib [ang mga contraceptives]? They have to prove that it is safe, rather than us prove that it is harmful," Araneta said.
(The FDA said that we don't have evidence that the contraceptives are harmful. But, if we're going by the Constitution, shouldn't they prove that these contraceptives are not dangerous?)
In its online petition, ALFI reiterated that there was "solid scientific evidence" that the contraceptives cause abortions and abortion is murder committed by the mother. Using the language of critics of Duterte's war on drugs, it lamented "this state-sponsored massacre of generations of Filipinos."
President Duterte's frequent refrain in defense of his war on drugs is his love for country and his determination to protect the Filipino people.
But observers are asking whether this bravado is enough in taking on the crusade against contraceptives. Will he be able to rally public support, especially from local leaders, some of whom want to be seen as conscientious objectors to the RPRH Law?
Or will the body count continue to rise in both wars? — BM, GMA News
This story is produced as part of the 2017 Southeast Asian Press Alliance Regional Reporting Fellowship.