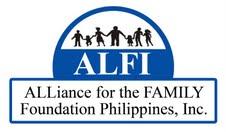 Unit 530, Richville Corporate Tower, Madrigal Business Park,
1107 Alabang-Zapote Rd., Muntinlupa City
Metro Manila, Philippines Tel. No. (02) 623-0300; 0917-5419370
E-Mail: allianceforthefamily@gmail.com Website: www. alfi.org.ph
The Board of Trustees of the Alliance for the Family Foundation Philippines, Inc. (ALFI) is pleased to inform you that ALFI filed a Preliminary Opposition to the applications of the pharmaceutical companies for re-evaluation/re-certification of contraceptive drugs/devices on October 8, 2014, within the deadline set by the FDA. Two (2) very well-respected pharmacists co-signed with ALFI'S President, Atty. Maria Concepcion S. Noche: Dr. Juliet Alcantara-Uy and Dr. Nina Theresa Dungca.
While the applications refer to only 50 contraceptive drugs, we have registered our opposition to all 78 FDA-registered drugs that are being sold in the Philippine market. We also prayed for the recall of all these drugs until the FDA could finish its re-evaluation. We have also asked for 30 days or until November 07, 2014 to file a Supplemental or Individual Opposition (for each drug), if this will be deemed necessary.
We await the appropriate action/notice from the FDA in light of the various oppositions filed.
Thank you.