House Members form 'Coalition for Life'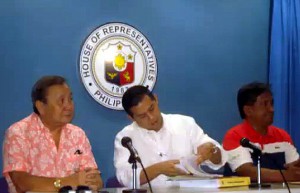 MANILA, July 31, 2013 —Members of the House of Representatives headed by Leyte Rep. Ferdinand Martin Romualdez and Buhay Party-list representative Lito Atienza, most of whom coming from the 'independent bloc', announced in a press conference at the Batasan they are forming a 'Coalition for Life' aimed at advancing the pro-life advocacy.
"What binds us together now is the bloc we have formed," former Manila mayor Lito Atienza said. "We realized we have commonality, the same position in promoting a culture of life for the country through Congress."
Atienza further added that the coalition for life bloc is united in its position, citing family and life issues that are commonly under attack in the West, and now have also started to roll in the country.
"The issue of divorce, we're all together against it. The issue of same sex marriage, we're all against it. The issue of abortion, and all the violent methods, we're all against it. The issue of euthanasia, we're all against it," said Atienza.
Atienza further disclosed that the forming of the coalition brought them [independent bloc] closer together in defense of life.
Last week, the independent bloc was formed, led by Lakas-CMD president and Leyte Rep. Martin Romualdez who refused to join the minority, accusing the minority bloc led by San Juan Rep. Ronaldo "Ronnie" Zamora as a mere "trump" of the majority led by Speaker Feliciano Belmonte. (Paul De Guzman)