Determining when life begins crucial – Bishop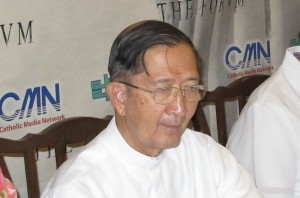 MANILA, Nov. 21, 2012—While senators are still arguing over when life begins, Catholic Church officials said there is more reason to be apprehensive of the reproductive health (RH) bill.
Antipolo Bishop Gabriel V. Reyes said "common sense" dictates that the government should be more careful in providing the public with birth control medications and other family planning devices.
The chairman of the CBCP's Episcopal Commission on Family and Life (ECFL) said a rational evaluation of abortion must be built upon one single question: When exactly does human life begin?
"If you are hunting and something moved behind a tree but you aren't sure if it's a person or animal, are you going to shoot it?" Reyes said. "Of course you'll have to make sure [first] because human life is important."
"In the same manner, should we not all protect life from the beginning to its very end?" he said.
The bishop raised the point even if the Catholic Church holds that life begins at the moment of conception or when a man's sperm meets a woman's egg.
Some senators yesterday introduced amendments to the RH bill, with Senate President Juan Ponce Enrile, for instance, wanting to define when human life begins.
For him, life begins at fertilization, which may mean the banning of some oral contraceptives and other devices which have a mechanism of action that blocks a fertilized ovum from implanting.
This drew a reaction from RH bill principal sponsors Pia Cayetano and Miriam Defensor-Santiago.
"I do not believe that all our collective wisdom can take the place of scientific experts trying to define when life begins," Cayetano said. "Even the experts do not pretend to have that kind of wisdom."
"There is a consensus in scientific community that contraceptives work prior to fertilization so they can't be considered abortifacients. I am deeply regretful that this proposed amendment is unacceptable to the sponsor," said Santiago.
Enrile's amendment was outvoted by his colleagues, 9-11.
Fr. Melvin Castro, ECFL executive secretary, said it is unfortunate that senators rejected the Enrile amendment despite admitting that they are not experts on when life starts.
"The more we have to be careful about this because even the principal authors themselves admitted that they do not know when life begins," Castro pointed out.
"We have to be sure about this because we are talking about human life here," he added.
Senator Ralph Recto also objected to a key provision of the RH bill mandating local government units and private hospitals to provide RH services.
In a vote of 13-7, senators accepted the Recto amendment.
According to Senate Majority Floor Leader Vicente Sotto III, most local government officials "are anti-RH bill."
"They are being mandated to provide these commodities disguised as essential medicines from their budget. Even if you conduct surveys, most of the mayors are against this," said Sotto. (CBCPNews)