CBCP official expected end of RH interpellations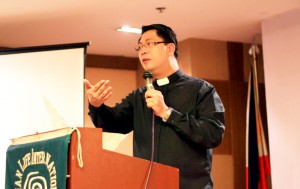 MANILA, June 7, 2012–An official of the Catholic Bishops' Conference of the Philippines (CBCP) clarified that bishops are already expecting interpellations of the controversial Reproductive Health (RH) bill to end. Fr. Melvin Castro Episcopal Commission on Family and Life Executive (ECFL) Executive Secretary, pointed out that interpellations on any bill, whether at the Upper or Lower House, end at some point and are followed by the period of amendments.
"We are already expecting it. Even if all [senators] will interpellate, it will end," Castro said.
He reiterated, however, that he respects the opinion of the sponsors of Senate Bill 2865 or the RH bill.
"We respect Sen. Miriam Santiago and Sen. Pia Cayetano, but they must know that this is not a theological issue. This is a very scientific, medical, economic and moral issue. I hope they will see that the Church's opposition is not just based on theology," the priest pointed out.
Asked what the next move will be, Castro explained that the Church will continue to work and explain to the public and to legislators that the controversial measure is unnecessary. He added that if the bill should become a law, the next administration will be forced to adhere to the mandate despite disagreeing with it.
"That is the nature of the bill and one of the points that we repeatedly express. Nevertheless, we will continue to have a dialogue with our legislators because they need to see that this is not the solution to the needs of our country, especially of the women," he said.
Given how the case of former Chief Justice Renato C. Corona went about and concluded, Castro was asked for his thoughts on the prospect of legislators feeling intimidated by the administration, particularly the President.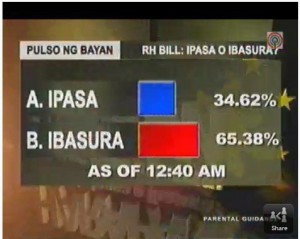 "I have heard of people saying what [the President] wants he will get. I think not on this issue (RH) because this is beyond the desire of one president or even a group of legislators. This is the concern of all Filipinos," the priest replied.
Castro became a prominent figure as far as the RH issue is concerned when he served as a panelist on a 2011 television debate over ABS-CBN's Harapan and effectively debunked the RH bill supporters' arguments. A poll on whether or not to pass the bill conducted during the program ended with the following: 34.62% for passage and 65.38 for non-passage.
"We will earnestly pray for all of them [senators] even if we need to go on a fast for them," Castro concluded. (CBCP for Life)